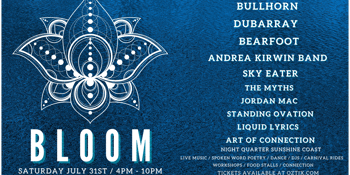 The Flow State Experience presents...
BLOOM
feat. BULLHORN, Dubarray, Bearfoot, Andrea Kirwin + more!
NightQuarter - Sunshine Coast (Birtinya, QLD)
Saturday, 22 January 2022 4:00 pm
From the creators of THRIVE & PRANAFEST, The Flow State Experience presents the next edition of their spectacular event calendar which is the festival style venue activation event 'BLOOM'. Hosted at one of the the Sunshine Coast hottest open air venues & the winner of the QMA regional venue awards this event will take place at none other than the incredible Sunshine Coast NightQuarter.
Featuring a powerhouse lineup of some of the top bands from South East Queensland including BULLHORN, Dubarray, Bearfoot, Andrea Kirwin Band, The Myths, Sky Eater, Jordan Mac & Standing Ovation. BLOOM is coming at you full power with high vibes weaved with 'The Flow State Experience' magic. As part of our ethos we will be incorporating some amazing interactive workshops from some of our talented facilitators including Liquid Lyrics & The Art of Connection to bring in a unique experience and something more than just another band event. Come and experience the magic and get a taste of what happens at our festival offerings.
Some more information about the artists:
BULLHORN
Formed in 2011, these party animals combine virtuosic musicianship, crazy arrangements, catchy grooves and upbeat rhythms to whip the audience into a veritable frenzy. As adept at creating original tunes as they are at reimagining the likes of Bonobo and Easy Star All Stars, this nine piece behemoth is hell-bent on good times. Their presence is formidable; armed with trumpets, trombones, saxophones, drums, the mighty sousaphone and the massive presence of Roman MC. As BULLHORN starts to play audiences will experience intoxicating grooves and huge rumbling sounds around them as they descend into a world of rich sonic textures created live, acoustic and real.
DUBARRAY
Uplifting, Soulful & Euphoric, Dubarray's music is all about raising vibrations. Combing a fresh fusion of boundary bending world music, the band combines a variety of musical styles which includes everything from trip-hop, funk, drum & bass, house to down tempo chill ambient vibes. Performing a range of instruments live, the band layer a bed electronic synth ambience to encompass a sound that will nurture you into a journey through the ether of musical alchemy. Dubarray are a unique story of an Australian act who kicked off their journey in Europe 7 years ago, building solid foundations thanks to an abundant and busy live touring schedule.
BEARFOOT
Bearfoot blends So-Cal, Hip Hop and dub reggae, with a dash of the Endless Summer soundtrack thrown in. Sweat-drenched, high-energy sharing performances and catchy melodies over deep grooves are their speciality. Bearfoot's sun-soaked take on roots, reggae & dub has sent ripples throughout the country and beyond. The band – Bearfoot is a powerhouse sextet that knows how to dig in and get a crowd bouncing then brings them back down for some chilled dub-fused island grooves. The crew mixes sweet harmonies to support Asher Chapman's passionate rapid-fire vocals.
ANDREA KIRWIN BAND
Andrea Kirwin is an Australian - Fijian Singer/songwriter based in Nambour on the Sunshine Coast, Queensland, Australia. She writes, records, produces and performs her originals and also runs her independent Record Label Peace Run Records from Queen St, Nambour, offering music lessons, mentoring and booking agency for boutique Sunshine Coast based artists. In her spare time Andrea likes to promote local talented artists through her Live Stream events such as Thursday Night Blues, which encourages her local following to discover new artists and support the local music scene. Andrea has just finished her 5th Album, 'Bloom', representing the name of this beautiful event.
Also joining the lineup are young and talented trio from Noosa THE MYTHS, The Byron Trio creating Dub waves SKYEATER, The roots troubadour and guitar extraordinaire Mr JORDAN MAC, & DJ STANDING OVATION.
Don't miss this amazing event. July 31st, 4pm - 10pm!