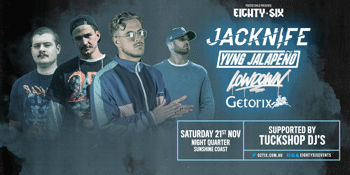 Poster Child Presents...
EIGHTY-SIX ft. JACKNIFE, YVNG JALAPENO, LOWDOWN & GETORIX
JACKNIFE, YVNG JALAPENO, LOWDOWN & GETORIX
NightQuarter - Sunshine Coast (Birtinya, QLD)
Saturday, 21 November 2020 5:00 pm
Bass heavy event brand Eighty-Six is headed for QLD this summer, launching this November at NightQuarter on the Sunshine Coast with Jacknife, YVNG Jalapeno, Lowdown and Getorix.

Since launching in Sydney in 2016, Eighty-Six have delivered heavy hitting line ups featuring international acts such as Excision, Zomboy, Kayzo, Boombox Cartel and more, whilst championing Australian talent like Enschway, Blanke and Sippy.

It's time to give 2020 the Eighty-Six treatment and throw down one hell of a show at NightQuarter.
-
*NightQuarter is an outdoor venue currently operating under a Covid Safe Industry Plan. NightQuarter is working within the 1 person per 2 square metre ruling (Note: this is subject to change in accordance with Queensland Health).
*Dancing is not permitted at this event (but you can sway!)