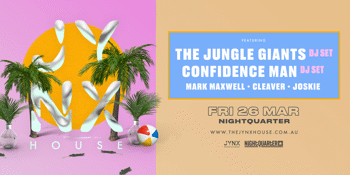 Jynx Entertainment presents...
THE JYNX HOUSE feat. The Jungle Giants (DJ SET), Confidence Man (DJ SET) - SOLD OUT
NightQuarter - Sunshine Coast (Birtinya, QLD)
Friday, 26 March 2021 4:00 pm
Your ticket includes an entry pass to NightQuarter (4pm-10pm) with food stallholders, themed bars, more live music, amusement rides and more (Value $5)
Presenting The Jungle Giants (DJ Set) and Confidence Man (DJ Set) on Friday the 26th of March, The Jynx House is bringing the Sunny Coast the biggest and best of what indie and electronic music have to offer. Taking place at none other than the iconic NightQuarter, we have endless room for you to boogie and sweat it out on the dancefloor.
Supporting The Jungle Giants and Confidence Man are Sunny Coast favs Mark Maxwell, Cleaver and Joskie. With such a lineup, it would be impossible to disappoint. So spread the word, The Jynx House is bringing live music in the Sunny Coast back to life!