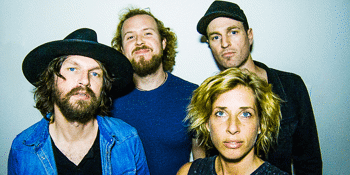 Rise- Taking Music to New Heights
Tijuana Cartel and Dubarray
NightQuarter - Sunshine Coast (Birtinya, QLD)
Saturday, 30 January 2021 6:00 PM
Explosive live acts. Sunny Coast sounds. Summer nights. 


An explosive Summer concert series featuring the best live acts from the region on the 'NightQuarter Live' stage. To celebrate NightQuarter 'rising again', we proudly present 'Rise'- a concert series with a curated lineup of the most explosive local live acts around.

Your ticket includes an entry pass to NightQuarter (4pm-10pm) with food stallholders, themed bars, more live music, amusement rides and more (Value $5)

Experience live legends like Tijuana Cartel, Bearfoot, Highlife, Dubarray, Andrea Kirwin, Bullhorn, Fat Picnic, Hanlon Brothers and more. Promising to 'take music to new heights', the series celebrates the best live music acts from around the South East Queensland region with a focus on homegrown Sunny Coast acts. 
 Tickets on sale now for a huge Summer of music! #supportlocal 


The series is being supported by Arts Queensland's Play Local funding, which has also contributed to the booking of 40 Sunshine Coast based acts across the five stages of NightQuarter. 


Artwork created by local Caloundra illustrator Isabelle Beartrix.

Tijuana Cartel

Winners of Best Live Act at the 2020 Gold Coast Music Awards, Tijuana Cartel have established themselves on the Australian music scene as one of the country's most exciting live acts, combining the sounds of the Middle East, India and Spain with a psychedelic and atmospheric approach to song writing. Based in deep electronic roots with a concoction of multi-layered grooves, splashes of Middle Eastern vocals, lilting Mobyesque soundscapes, Flamenco and slide guitar, trumpet, live & electronic world beats and percussion, influenced heavily by break beats.

The four-piece formed on the Gold Coast in the 1990s and have since built a firm reputation as a global force, notching up residencies in Mumbai, Thailand, Bali's KuDeTa Bar and Beijing's famous Loong Bar during the 2008 Olympic Games. The band has also been a familiar face on the international festival circuit, playing stages across Europe and the USA as well as Australia's most loved events including Peats Ridge, Rainbow Serpent, Wave Rock, Splendour In The Grass, Byron Bay Bluesfest, Woodford, Falls Festival and many more.

"We blend all our personal influences together into our own sound, I'm into flamenco guitar and world sounds, whereas Carey is more into breakbeat and electro styles, Eamon has a jazz background and Sheila brings her DJ alter ego into the mix." Paul George (Tijuana Cartel frontman) Creating an electronic beats tapestry that will cut through to your very soul, Tijuana Cartel is the perfect accompaniment to the rich tapestry of offerings at any festival across the globe.

"There's really no one else doing their mix of eastern mysticism, world flavours and cutting-edge dance beats, certainly with as much flair." Andrew Drever (Sydney Morning Herald)

Dubarray

Dubarray describes their music as conscious world/electro/dub music. Combining a fusion of house, trance, drum & bass, trip-hop and dub reggae grooves Dubarray incorporates live instrumentation such as soulful euphoric vocals, powerful guitar riffs and expressive floating piano melodies all intertwined with tribal percussion rhythms and ambient electro undertones. Inspired by the likes of St Germain, Thievery Corporation, Groove Armada & Portishead. Dubarray released their debut album 'Ebb & Flow' in June 2012 and have toured Europe & Australia non stop since. Dubarray's smooth fresh sound is an experience of emotion and uplifting energy to stimulating the sublime in your mind.