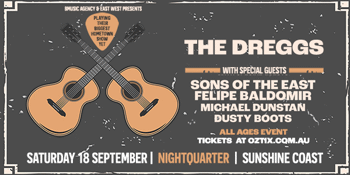 East West Presents
THE DREGGS - Biggest Sunshine Coast show yet!
With Sons Of The East, Felipe Baldomir, Michael Dunstan and Dusty Boots
NightQuarter - Sunshine Coast (Birtinya, QLD)
Saturday, 18 September 2021 5:00 pm
The Dreggs are beyond excited to announce their biggest hometown show yet, an All Ages event at Nightquarter on Saturday 18 September!
And it is a stacked line up with Sydney's Sons Of The East, Felipe Baldomir, Michael Dunstan and Dusty Boots also joining the line-up for an indie folk extravaganza.

The last 12 months for The Dreggs has seen an explosion in their loyal fanbase with 100% increases in social media followers and Spotify listeners off the back of six well received single/EP releases.
With two acoustic guitars, a foot-stomp, and a driving beat, the duo have recently sold out a national tour and are fast consolidating their place in the growing folk scene

With a fresh new single in "Fool Me", Sydney's Sons Of The East will be bringing their dose of irresistible folky sunshine and cheer to their very first appearance on the Gold Coast.
The band's motley acoustic / electric sounds has become a unique and charismatic trademark with songs like Into The Sun, My Repair and Come Away becoming classics with over 70 million streams between them.
A debut album is looming on the horizon for the back end of 2021

Michael Dunstan is a pensive folk writer from Western Australia, with a peaceful focus on all things bigger than us. Born and raised in the quaint Wheatbelt of WA, his laid-back attitude and preference for a slower pace of life is exemplified in his music, which is rooted in a mix of traditional folk and relaxed surf-rock styles. To date, the releases have loyally garnered in excess of 7 million streams on Spotify alone.

A multi-instrumentalist musical architect, who takes his audience on soulful sonic journeys - Felipe Baldomir is an Indie-Folk singer and songwriter from Uruguay, South America.
"While Felipe is from South America, his music has such a breezy Australian sound that no doubt comes from his ability to connect to country, to feel the sound of the ground that his two feet are standing upon."
Through his music he shares his reflections of people and places, of moments and memories - while listening you discover each song is a love letter to the person or place that inspired the creation of each melody.

Dusty Boots began by the seaside of Byron Bay as a coastal folk/soul artist sharing stories about life & connecting with nature. They have been touring Australia & Internationally, growing their live and online audiences through sharing their uplifting and high-energy performance. This Gold Coast appearance will be celebrating the release of their latest single 'Feeling Fine' a soul infused track with smooth beats and groove.