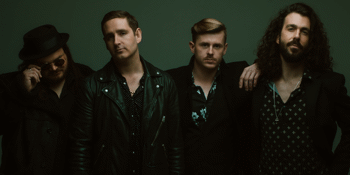 Kingswood
with special guests Chutney
NightQuarter - Sunshine Coast (Birtinya, QLD)
Friday, 2 September 2022 4:00 pm
Your ticket includes an entry pass to NightQuarter (4pm-10pm) with food stallholders, themed bars, more live music, amusement rides and more!

Live music lovers rejoice! One of Australia's most formidable and engaging live acts is heading to NightQuarter! The legendary Kingswood are a dynamic force onstage with five eclectic and critically acclaimed albums under their belt. They have toured with AC/DC, Aerosmith and have sold out countless concerts and now they are headed to the Sunny Coast. Don't miss this!

What is the Kingswood sound? Is it the brazenness of the guitars that drove their debut album Microscopic Wars? Or perhaps the melodic, vintage sounds of their sophomore effort, After Hours, Close To Dawn; or even the darkly enticing pop threshold crossed with 2018's 'Messed It Up' release. It's the sniff of rebellion and the taste of a challenge that has spurred Kingswood on across an almost decade long career. A creative hunger that threads each release together. Defined by simply being undefinable, the Melbourne band has been on a journey of discovery and creative growth since the ARIA nominated Microscopic Wars put Kingswood on the national radar in 2014. This was followed by countless sold-out tours, ARIA Gold Accreditations, song writing awards, tours with AC/DC, Aerosmith and a total of 5 eclectic and critically acclaimed albums to date. Establishing themselves as one of Australia's most formidable and engaging live acts, Kingswood's drive and ambition in reinventing and flourishing within the realm of new sonic influences has remained at the centre of their work.

EVENT FAQ
All ticketholders must comply with Government COVID-19 requirements in place at the time of the show. Unless required by law, refunds will not be available for failure to comply.
- Your ticket includes access to the NightQuarter night markets with food stallholders, amusement rides, more stages, themed bars and more.
- We accept companion cards - please show your card on arrival for entry
- This event is licensed All Ages. A minor is classified as under 18 years of age. Minors must be accompanied by a ticket holding guardian over the age of 25.
- Format is subject to change in line with changing QLD Health directives.