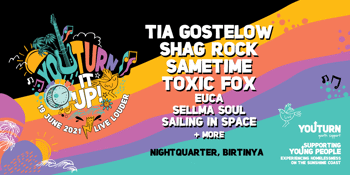 Youturn It Up!
featuring Tia Gostelow, Shag Rock, Sametime, Toxic Fox & more!
NightQuarter - Sunshine Coast (Birtinya, QLD)
Saturday, 19 June 2021 3:00 pm
Six packed hours & 7 awesome bands performing at Night Quarter - winner of QLD Regional Venue of the Year!

We've lined up some of SEQs best live acts including Tia Gostelow, Shag Rock, Sametime, Toxic Fox & more! They'll Turn It On!......... Youturn It Up!

The exciting line up will be lead by Tia Gostelow, who has become one of Australia's most celebrated musicians. Tia's second album Chrysalis was released in September after a whirlwind release of triple j top hits 'Two Lovers' and 'PSYCHO'.
Joining Tia on the line-up are Brissie-based Shag Rock with their top streaming hit 'Sunbleached Girl' as well as their newest songs 'Flicker', 'Creaky Minds'.

Dance pop band, Sametime, will also join the party with their infectious groove based bangers, alongside upcoming local bands Toxic Fox, Gold Coast's soft rock-singer-songwriter, Euca, and Sailing In Space with their weirdo lo-fi punk pop. Brisbane's hottest trans pop sensation, Sellma Soul will also be gracing the stage

Grabbing your tickets not only celebrates the return of live music in QLD, but it will help raise money to support Youth Homelessness on the Sunny Coast.

Great Music (check), Great Vibes (check), Great Venue (check) and a Great Cause (check) - what more could you ask for? Get your tickets and don't miss out!