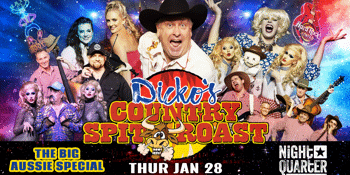 Dicko's Country Spit Roast Big Aussie Special
NightQuarter - Sunshine Coast (Birtinya, QLD)
Thursday, 28 January 2021 5:00 PM
Yeehaw! Dicko and the gang are back with a 'you beaut' (almost) Australia Day Country Spitroast - The Big Aussie Special

General admission tickets include a pre party in NightQuarter's Eumundi Beer Backyard with Grumpi's BBQ food stall where you can purchase slow cooked American BBQ and beers before the show.

Dicko's Country Spit Roast promises a carnival of twang, country queens and 12hr smoked barbecue with only the very biggest and best Country hits that you didn't realise you knew
and loved!

Think Grand Ole Opry meets Pricilla Queen Of The Desert with a bit of Hey Hey It's Saturday Mayhem thrown in!

Dolly Parton, Johnny Cash, Tammy Wynette, Glen Campbell, Willie Nelson, Pasty Cline, John Denver, Linda Ronstadt, Slim Dusty, Kenny Rogers and a whole lot more…

Featuring the beautiful Queen Cowgirl Sellma Soul & the Belles of the Rodeo 'The Reverse Cowgirls', a very naughty troupe of drag queens, who will parade a glorious assortment of outrageous outfits and slightly saucy dance routines.

Check your worries at the door, muster up your friends, go the big dress up, and have a barn-storming rootin, tootin & boot skootin good ol' singalong and a whole lot of laughs!